Perfect Broccoli Scrambled Eggs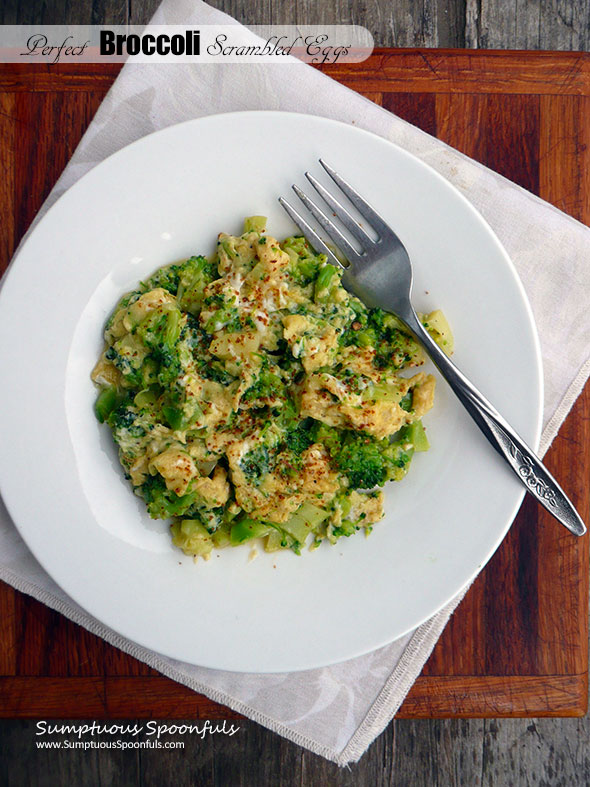 How about some bright green eggs for St. Patrick's Day? These broccoli scrambled eggs are a delightful, healthy way to start your day and they're SO quick to make!
Since I've been eating healthier and trying to lose weight, I've found ways to lighten up my meals, to make every calorie count, nutrition-wise (and hopefully taste-wise as well!) I want to stay healthy while I'm trying to lose weight. I know that it's important to eat protein when you're working out as much as I have been lately. Eggs are a great source of protein and I've always loved eggs with veggies.
This has quickly become a favorite go-to healthy breakfast for me. It's uber-fast, done in about 5 minutes. It's surprisingly delicious. It's filling. It's low in calories. It's satisfying and it sticks with me all morning. I don't find myself hungry in a couple hours like I do with some other breakfast foods. Sometimes I make a couple eggs at a time, split into two servings and reheat the rest in the microwave the next day.
I seriously love these eggs. Most of the time I make them without cheese, to save on calories, but occasionally I'll sprinkle on a little bit of cheese for the satisfaction factor. I allow myself a few little indulgences every day … this has really helped me stick to my healthy eating plan and it has worked like a dream! I have lost 12 lbs. since Christmas and when I look in the mirror now, I smile. I sometimes shout out loud with glee and do a little happy dance (literally!) when I step on the scale and I find the number is lower than it was yesterday. It's amazing how much just dropping a little weight boosts attitude and confidence.
My friend asked me how did I do it? Here's what I have been doing:
I cut portions. I have always eaten small portions, but I'm getting older and my metabolism has slowed down, so I realized I need to cut them even further. I needed to make a change if I was going to make this work.
I am working out a lot more. The trick is really to find something you LOVE doing. I doubled the amount of yoga I do and I have been going swimming 2 – 3 times/week too. I love swimming, but years ago I had to quit because I'm allergic to chlorine. I found a salt-water pool to swim in and it feels like I've rediscovered a part of myself that I had lost. And in yoga I have been challenging myself more, pushing to my very limit and I've noticed I can do things that I could never do before! It's exciting.
I limit my carbs. I still eat bread and rice (and quinoa!), but in little bits. I never eat an entire slice of bread anymore, but I savor every bite when I do have a bit of toast. I still eat a little bit of chocolate every day–but only 1 dark chocolate mini peanut butter cup (or other chocolate) per day. I do it in small bites so if I have a chocolate craving in the afternoon or after lunch, I still have part of my chocolate left to feed that craving. I ONLY eat chocolate that I absolutely love. That little bit of chocolate has to feed my inner choco-holic/sweet tooth, so it better be damn good.
I snack on a few almonds every day. When I say a few, I mean like 10 – 20 almonds. Almonds are supposed to help lose weight in the stomach and thighs, right where I want the fat to leave my body, and I do think it's working!
I cut down the amount of beer I drink. No more than 1 beer in any given day. If I want another drink, I have a glass of wine. (Once a week I allow myself to violate this rule, but it's become a habit now, so most of the time I don't really even want to "cheat" much anymore.)
I eat vegetables. A lot. In many forms. Sometimes it's fresh mushrooms, dipped in my homemade Sriracha ranch yogurt dressing. Sometimes it's spicy Asian green beans, sometimes it's a great big salad, sometimes the veggies are in a cup of comforting soup (like my asparagus crab bisque). I'm trying to get really creative finding new ways to enjoy my veggies.
I limit cheese and other high-calorie foods. I am WAY cheese-obsessed so this is hard for me, but I'm so psyched about my progress that I don't want to eat too much cheese. Yes, I still eat cheese sometimes and I still have a drawer full of little chunks of gourmet cheeses, but I don't drown myself in it like I used to.
These lovely green eggs have become one of the mainstays of my new way of life. When I'm in the mood for a little spice, I like to spoon a little Cilantro Cashew Green Tomato Salsa on top. Yum!
Perfect Broccoli Scrambled Eggs
Ingredients
For each serving:

About 5 or 6 frozen broccoli florets
1 egg
Red Robin Seasoning (or your favorite seasoned salt)
Freshly ground black pepper
If desired: a small sprinkling of extra sharp cheddar cheese
A tiny bit of butter
Instructions
Put the frozen broccoli in a small microwave-safe bowl and cover with a plate. Microwave on high for 1 minute. Stir. If still frozen solid, microwave another 30 seconds to 1 minute until it is mostly thawed and a little warm in most places.
Remove the broccoli from the bowl (leaving the water from the broccoli in the bowl) and chop the broccoli into little bits.
Crack the egg(s) into the bowl with the broccoli water and whisk until smooth. Sprinkle with seasoning and freshly ground black pepper.
Heat a nonstick frying pan over medium heat and rub lightly with butter. When the pan is hot, pour the egg into the pan, then sprinkle with broccoli (and cheese, if you're using cheese). Let the egg cook for a couple minutes until it is starting to set on the bottom, then begin stirring, loosening the egg from the bottom of the pan.
When the egg is just cooked but still moist, pour your lovely green scrambled eggs onto a plate. Taste and sprinkle with additional seasonings if needed. Enjoy them while they're hot!
Notes
Cook time is for 1 - 2 eggs. If you make more, it will take longer to cook.
RECIPE SOURCE: http://www.sumptuousspoonfuls.com/
© Copyright 2016, Sumptuous Spoonfuls. All images & content are copyright protected. I love it when you share, but please do not use my images on your own site/page without prior permission. If you want to publish any of my images, please ask first. Sharing, pinning, and tweeting is always appreciated as long as the shares and pins link back to here for the recipe. If you want to republish this recipe as your own, please re-write the recipe in your own words or link back to this post for the recipe.
http://www.sumptuousspoonfuls.com/perfect-broccoli-scrambled-eggs/
Copyright 2012 by Sumptuous Spoonfuls. Recipes are meant to be shared! Nothing makes me happier than to hear about someone who has tried one of my recipes. All I ask is that if you are going to share my recipe online, give me credit and a link. And if you want to use one of my photos, please ask first. You can contact me at http://www.SumptuousSpoonfuls.com/contact/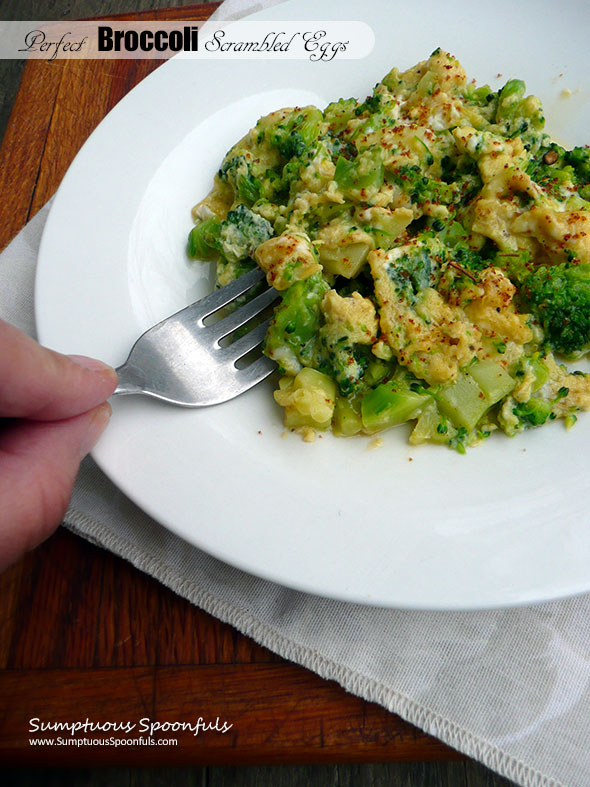 This recipe was shared at Full Plate Thursday, Let's Get Real Friday, Weekend Retreat, and Sunday Fitness and Food Linkup.