Whipped Pumpkin Maple Mascarpone Cream Cheese

It is hard for me to fathom that something that is so simple to make could be so amazingly wonderful. You can literally make up this light, fluffy spread in a matter of 10 minutes and it blows away any bagel shop's idea of a pumpkin spice shmear.
I have actually blogged this spread before, but in that other post, this spread was a sidekick to the Pumpkin cinnamon swirl bread and the bread kind of stole the show. While I highly recommend the bread and this spread is the absolute perfect thing to go with it, I think this beautiful spread truly deserves its own post. After all, you could use it on so many things … it doesn't HAVE to be on pumpkin bread.
It's the perfect indulgence for your toast or bagel … or crackers … I bet it would make a great dip for apple slices too. I also tried spreading it on celery sticks and sprinkling with granola. What else could you do with it? Hmmm …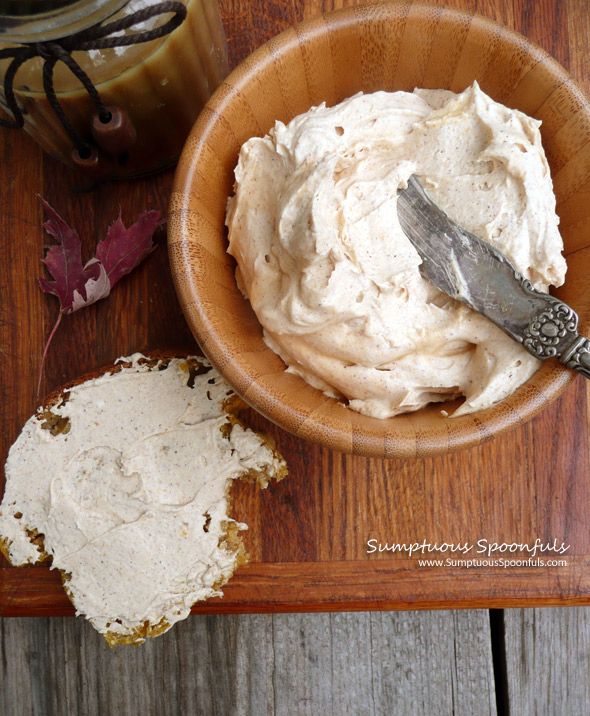 Whipped Pumpkin Maple Mascarpone Cream Cheese
3 oz. light cream cheese
1/4 cup mascarpone cheese
1/4 cup pumpkin puree
1 1/2 Tablespoons maple syrup
3/4 – 1 teaspoon pumpkin pie spice (if you don't have any on hand, here's a quick recipe to make your own)
1/2 teaspoon real vanilla extract
Let the cream cheese warm up a bit at room temperature, then in a small mixing bowl, mix the cream cheese with the rest of the ingredients. Beat with a mixer to get the lovely spread all nice and fluffy and everything mixed together well. Store in an airtight container in the fridge.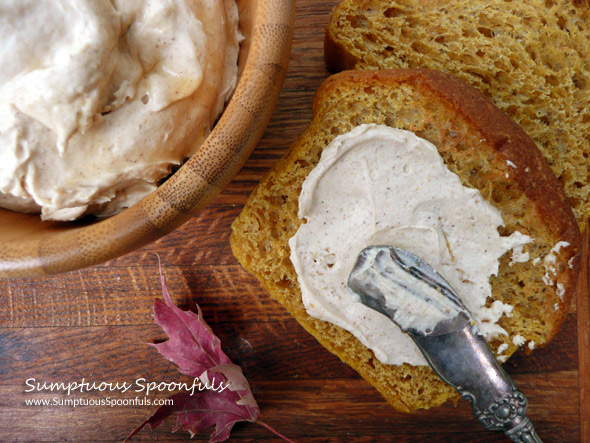 This recipe was shared at Totally Tasty Tuesday, All my Bloggy Friends, Newlyweds Recipe Linky, Foodie Friday, Weekend Potluck, Strut your Stuff Saturday, Melt in your Mouth Monday, All Things Pumpkin, French Cuisine Friday, KM's Thanksgiving Bloghop and the Fall Recipe Roundup.