Copycat Cheesecake Factory Oreo Cheesecake
Just very slightly adapted from CopyKat Recipes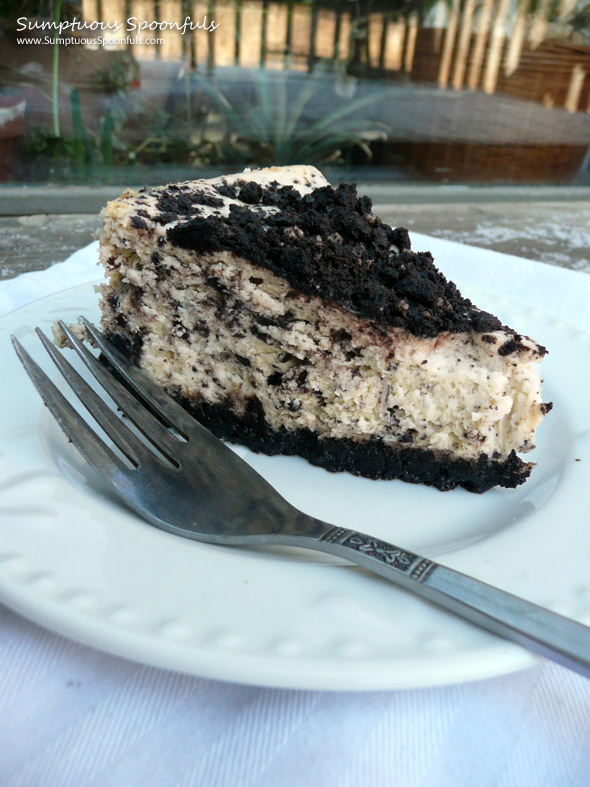 I have a funny story to tell you … my friend has a lake house that she rented out last summer to a group of students from Turkey. She lovingly refers to them as "the Turks" and she just adored them. I wish my schedule had allowed me the opportunity to meet these interesting young people, but it didn't.
In any case, after the Turks left, my friend opened the freezer and discovered a large "mystery" bag … she opened up the bag and found 25 lbs of oreo cookie crumbs. I laughed when she told me! Why would you have a 25 lb bag of Oreo cookie crumbs! Perhaps one of the Turks was working at the local Dairy Queen? I don't know, but my friend was suddenly the "lucky" recipient of a very large quantity of cookie crumbs. She tried to hoist off some of those cookie crumbs to me last fall … but I managed to escape without taking any. I wasn't so "lucky" at Christmas-time! She had a large bag of them all prepared and she MADE me take them along.
Honestly, I am not much of an Oreo cookie fan … I really prefer to make my own cookies, but I'm not one to let food go to waste. My son, on the other hand, really does love Oreo cookies … and he really really loves cheesecake. I've never been successful in the past in getting him to eat "my" cheesecakes, but I thought I'd give it another shot, since hey, I've got this huge bag of Oreo cookie crumbs to use up!
He liked the cheesecake! So much so that I had to ask him to save me a piece so I could photograph it. I only got to eat one tiny sliver of this baby (my "birthday" cheesecake). The rest was devoured by the teenage boy.
I did lighten the recipe up a bit … I used Neufchatel cheese instead of the full-fat version and nonfat Greek yogurt in place of the sour cream. It's still a pretty rich, decadent dessert.
Copycat Cheesecake Factory Oreo Cheesecake
Ingredients
For the crust:

1 1/2 cups Oreo cookie crumbs (about 23 Oreo cookies finely chopped)
2 tablespoons melted butter
1/4 cup dark chocolate chips (optional)

For the filling

1 1/2 pounds light cream cheese (three 8 ounce packages)
2/3 cup sugar
5 large eggs
1/4 teaspoon salt
2 teaspoons vanilla
1/4 cup flour
6 - 8 ounces nonfat Greek yogurt (or light sour cream, if you prefer ... my container only had 6 oz. in it so I went with that)
5 Oreo cookies, coarsely chopped (I used 1/2 cup of the cookie crumbs)
For the top: About 10 coarsely chopped Oreo cookies (or just more oreo cookie crumbs)
Instructions
First get out all the ingredients and let them warm to room temp as much as possible. (Honestly I skipped this step and my cheesecake turned out fine, but that's what the recipe said to do so I thought I'd pass it on ...)
Now make the crust: If you are using chocolate chips, melt the butter, then stir the chocolate chips into the hot butter right away and stir. The heat from the butter should melt the chocolate chips. Mix the oreo crumbs with the melted butter/chocolate mixture and press into the bottom of a 10-inch springform cheesecake pan.
Put the cream cheese in a large bowl and beat on low speed with your mixer until it's light and fluffy. Begin adding the sugar, little by little, beating until it's all mixed in. Scrape the sides of the bowl with a rubber scraper as you go to make sure it is all getting mixed in well.
Then add the eggs one at a time, beating each egg fully into the batter and scraping down the sides of the bowl again before adding the next egg. Add the salt, vanilla, flour and Greek yogurt and beat some more until everything is mixed in and smooth.
Gently fold a few coarsely chopped oreo cookies (or 1/2 cup crumbs) into the batter.
Pour the batter into the prepared springform pan. Sprinkle the top with more Oreo cookie crumbs.
Set the top and bottom racks of the oven far enough apart so that you can set a pan of water on the lower rack and the cheesecake on the top rack. Set 2 circular cake pans (or one larger cake pan) filled 2/3 of the way with water on the lower rack. (This will act as your "water bath" without having to go to all the trouble of actually putting the cheesecake in the water.) Preheat the oven to 325.
Place the cheesecake on the top rack of the oven and bake for about an hour. Test it ... it should be just slightly jiggly in the middle when you shake the pan gently. If it's really jiggly, cook for another 15 minutes. When the time is up, turn the oven off, prop the door of the oven open and let it sit for an hour. Then, remove it from the oven, cover and refrigerate for 24 hours. I didn't think my son would actually wait long enough to let the cheesecake "season", but he did!
Now you know what to do. Slice it into pieces and enjoy. I recommend small slices because it is a rather rich cheesecake.
Notes
Make this cheesecake the day before you want to eat it to give it time to "season".
http://www.sumptuousspoonfuls.com/copycat-cheesecake-factory-oreo-cheesecake/
Copyright 2012 by Sumptuous Spoonfuls. Recipes are meant to be shared! Nothing makes me happier than to hear about someone who has tried one of my recipes. All I ask is that if you are going to share my recipe online, give me credit and a link. And if you want to use one of my photos, please ask first. You can contact me at http://www.SumptuousSpoonfuls.com/contact/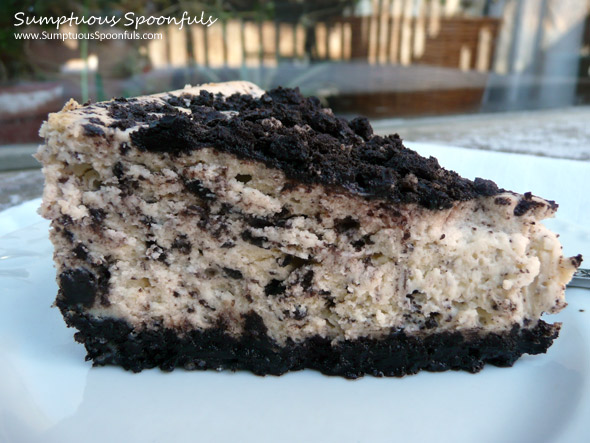 This recipe was shared at Foodie Friday, Foodie Friends Friday, Strut your Stuff Saturday, Scrumptious Sunday, Tuesday Talent Show, Show & Share Wednesday, Tasty Thursdays, Foodie Friends Friday Copycat Recipes and Clever Chicks Bloghop.