Homemade Spinach Whole Wheat Noodles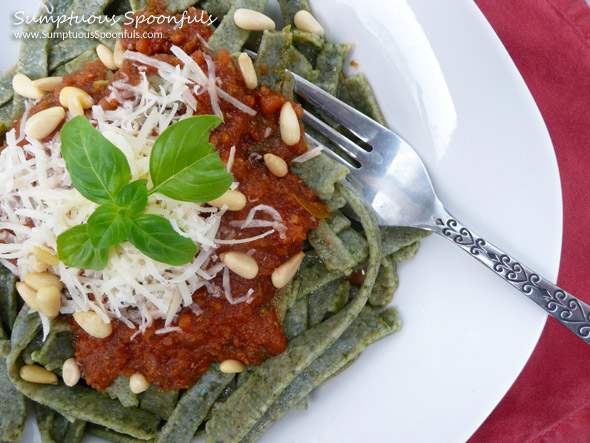 Making homemade noodles really isn't hard. It just takes a little time. It's even easier if you happen to be lucky enough to own a pasta machine (I do), but you don't really need one. A good old fashioned rolling pin works quite well too.
I made these noodles the other day when my daughter wasn't feeling well. I was trying to sneak some more vegies into her diet and make her some homemade noodles for chicken noodle soup. Well, the soup didn't turn out so good … sometimes I go a little overboard trying to make things tasty and it just doesn't work … sigh … but the noodles turned out great! And I still have some dried noodles for next time she needs some soup. Or when I just want a plate of pasta, like I did today for lunch.
I found this fun recipe at the Ignited Life … and they are entitled: "Amazing Karen's Amazingly Simple Ghetto Fabulous noodles"
Why ghetto fabulous? Because she didn't have a pasta rack for drying her pasta, so she came up with the most amazing … "ghetto" … idea! Use clothes hangers to dry your pasta on! How perfect is that? I tried it and it worked like a dream.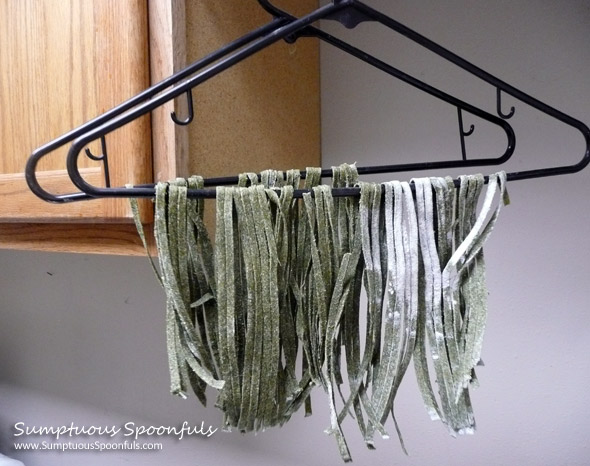 I really loved being able to hang them up in the laundry room and then I could clean up my kitchen with no noodles in the way. It was awesome! … anyway, on to the recipe:
Homemade Spinach Whole Wheat Noodles
Ingredients
8 oz. frozen spinach, thawed and drained
2 eggs
2 cups white whole wheat flour, plus plenty more for rolling (or use regular whole wheat ... I just had the white whole wheat flour on hand, so I used that)
1/2 teaspoon salt
1/4 teaspoon granulated garlic
1/4 teaspoon Red Robin Seasoning (or other seasoned salt ... use more to taste if you like)
Instructions
In your food processor or handi chopper, blend the eggs with the spinach until it's a fine puree.
Measure the flour, salt, and seasonings into a medium mixing bowl and add the spinach mixture, stirring to mix well and form a stiff dough. You may have to add additional water or flour to get the dough to be "right" ... It should be pretty firm and not sticky. Taste the dough to see if you like the taste of it ... if not, add a little more salt or Red Robin Seasoning. (Remember, noodles are usually covered with a tasty sauce so you want them to be fairly bland but not totally tasteless.)
Now, cover the dough and let it rest for 10 minutes before rolling it out. You can do this with a rolling pin if you want, but I used my pasta machine. If you're using a rolling pin, I would recommend visiting her post.
Cut the dough in two pieces. Dust your pasta machine with flour and set it on the widest possible setting. Roll one piece of the dough through the machine several times, each time folding it over and dusting it with flour before rolling it through again. The first time you roll it through, it will likely fall apart, but as it gets "kneaded" by the machine rollers, it will become more elastic and hold together better. I think I rolled mine through about 10 times.
When it gets to the point where the dough is holding together very well and it's pretty elastic, move the setting of the pasta machine to one level thinner and roll the dough through again. Repeat (without folding this time!) until you have the noodles to your desired thickness. The pasta will get quite long as you do this ...
To cut the noodles, you can lay them out flat and use a pizza cutter or use your pasta machine's cutter. I cut them into fettucine sized noodles with my pasta machine. Repeat this process with the other ball of dough.
Now, if you have a fancy pasta drying rack, use that, but if you don't, then hang the noodles on clean, dry clothes hangers. They work just as well! I hung them in my laundry room to dry ... and was so happy to have them out of the way! Let them dry overnight or until they are dry, then bag them up to use whenever you want homemade noodles for dinner or in soup ... or whatever! Just heat up a pot of water to boiling and boil them for about 5 - 10 minutes or until they are done to your liking.
Notes
I'm guessing on prep time ... I didn't really watch the clock!
http://www.sumptuousspoonfuls.com/homemade-spinach-whole-wheat-noodles/
Copyright 2012 by Sumptuous Spoonfuls. Recipes are meant to be shared! Nothing makes me happier than to hear about someone who has tried one of my recipes. All I ask is that if you are going to share my recipe online, give me credit and a link. And if you want to use one of my photos, please ask first. You can contact me at http://www.SumptuousSpoonfuls.com/contact/
This time I topped my noodles with my
Crockpot Garden Marinara Sauce
, a little freshly shredded parmesan cheese and a few pinons. Simple, healthy, delicious!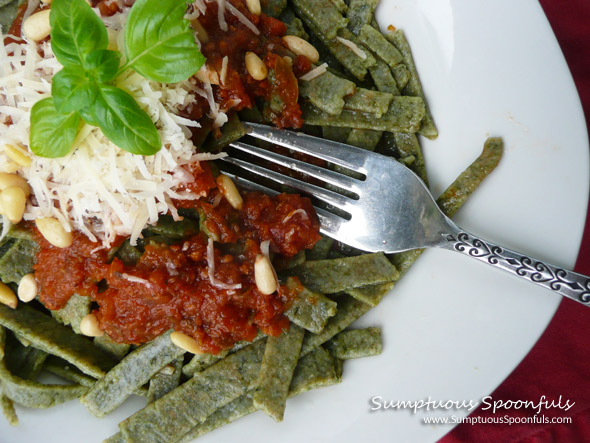 This recipe was shared at Tasty Thursday, Foodie Friday, Dinner Party Extravaganza, Scrumptious Sunday, Clever Chicks Bloghop, Weekend Potluck, Melt in your Mouth Monday, Totally Tasty Tuesday, Thursday's Treasures, Kitchen Fun & Crafty Friday Link Party, Foodie Friends Friday Noodles Party, Hearth & Soul Bloghop and Farm Girl Blog Fest.